The lake is starting to give up it's ice.  Ice out will be earlier this year compared to average by about 3 weeks due to lack of cold weather this winter.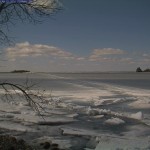 Mille Lacs will be catch and release for anglers this coming summer due to the effects "Treaty Management" and which lead to the decline of the Walleye population in my opinion. Meanwhile the Bands are "netting Perch" and spearing Walleyes during the spawning season again.  I'm sure the Walleyes know not to swim into a "Perch" net……   Crazy world we live in these days….
I'm not against Bands right to harvest or treaty rights, but to harvest a resource that is supposedly in trouble during the time it is reproducing is against all nature intended it to be.  A federal court decision still doesn't mean it is good for natures way of doing things.
Eddy