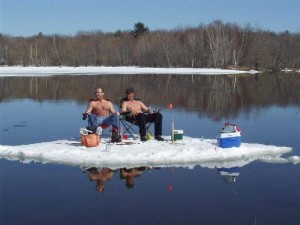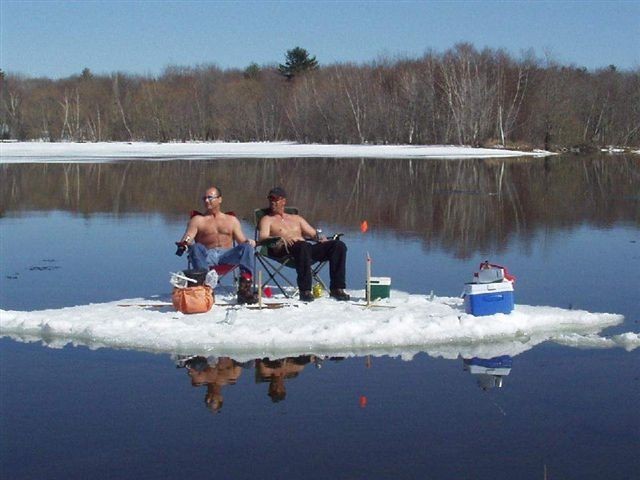 Today was the last trip out on the ice for this year. The last two days we spent picking up anything leftover on the ice in the areas we go.  It feels good to know you did your best to make sure it's clean out there.
It also wraps up one of the worst years on the ice Cindy and I have experienced in the last 30 years.  Just about everything that could go against us did.  With what looked like would be an early start, became one of the latest. Missing out on "Christmas Week" which everyone in the ice fishing rental business knows can make or break a season, and snow every 3rd day or so after that with high winds and record below zero days, (and once your out there you can't quit).  Fuel expenses from plowing twice the normal. And to top it off a poor bite, restricted limit, small harvest slot, and almost no keepable Perch, fishermen didn't frequent the lake like they would normally have.
Thanks to our MN DNR's lack of insight in their management practices, (always reacting after the problems created instead of trying to look ahead before they create it.)  Telling us cleaner water, climate change, Zebra mussels, etc,  (which from the MN DNR was like it was just discovered), should have been thought about long before this and considered in their suggested management policies. Then add to that, GLIFWIC's and MN DNR's encouraging the bands to disturb reproduction by allowing harvest during the spawning season is absurd in my opinion, regardless of the one study they have proves to them that it doesn't affect Mille Lacs.  If our MN DNR believes that what they are allowing to happen here is "ok", why do they close areas to anglers in Northern Minnesota during the fishing opener because Walleyes are spawning?  Why did they buy out commercial netters on Lake of the Woods? Why did Red Lake crash?   "Political treaty management" shows no regard to protecting the the resource and allows for the abuse of "treaty rights" by some of those that have them, and Mille Lacs Lake is just another example.  The State of Minnesota's politicians are afraid to stand up for it's taxpaying citizens because almost all receive money from the Band's lobbyists due to uncontrolled ,non-taxed casino money in MInnesota that "our" politicians allowed in the past.  Ron Schara said in a very good opinion piece last week in MN Outdoor News,  "If you are wondering why the State Capitol in St. Paul and it's politicians aren't up in arms about what is happening at Mille Lacs and doing something about it…look in the mirror……."    Maybe its time for a change for a lot of things in Minnesota….(ya think?)
But life will go on, the lake will improve, and hopefully "our"  MN DNR  will come around and start representing the people that pay their wages, like GLIFWIC does for he Bands, (whose monies come from the Feds) that pay theirs.  There are still a lot of reasons Mille Lacs will be a "go to" lake forever.  Right now it is one of the top five Smallmouth destinations in North America. The Perch population is going to rebound to some catchable-keepable 10″ plus fish by next winter. and the Walleyes will come back in a short time.
Mille Lacs has just plain been a tradition for many anglers for many years and always will be, plus it's an amazing body of water to see and be on.   Plus…We're still here!!
Keep a Tight Line!!   Hope to see you next year!!
Eddy