Fifty Thousand Holes
by Phyllis Lyback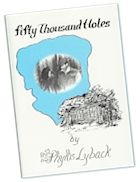 Determined to avoid city life, Clark & Phyllis Lyback embarked  upon many ventures in order to make a living on the south shore of  Mille Lacs Lake. From creating Lyback's Ice Fishing to building wooden boats and making maple syrup, the Lyback's may well have drilled over Fifty Thousand Holes. (Clark's idea for the book's title)
This is their story as seen through the eyes of Phyllis. Written with devotion and detail, Fifty thousand Holes is her tribute to Clark and his memory and reflects her gratitude to God for a lifetime of love.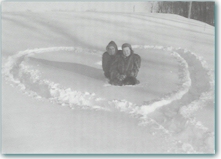 The temp. was 20 degrees below zero the day they tramped out this big heart and posed in its center for this picture in 1950.
Just a note from Eddy—Phyllis, (my Mom), passed away on December 24th, 2009.  She was 88 years old.  Clark passed away in 1984 at the age of 68.
We still have about 750 books left from the last printing.  All sales of them will be donated to Faith Lutheran church, in Isle for the Sunday School program for her great granddaughter Isabel Rose. Phyllis was involved in for many years with her church and we felt it would be the appropriate thing to do.   Thank You
To get your copy of Fifty Thousand Holes, send check or money order payable to Eddy Lyback in the amount of $18.00 to: (includes book, sales tax & shipping) to:
Lyback's Marine
2200 Highway 47 North
Isle, MN  56342
ATTN:  Book Order