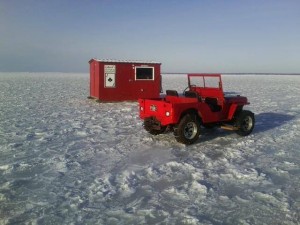 Happy Thanksgiving!
Today I went out and rechecked the ice from Sunday with the past few days of cold weather.  ice depths varied from as little a 7 inches to as much as 9 inches and 10 inches plus the first 200 yards from shore.  The warm weather we had Saturday and Sunday really screwed up the rough ice that we already had by melting enough of the "crunchy" stuff and getting it wet so when it froze the last couple days it got pretty hard. I will be definitely be using the disc to establish roads if we don't get too much snow on it tomorrow.
Also with the ice freezing while it was windy there is slush under the ice, (which in time will either freeze or melt), but for the first couple weeks or so it's going to mean a lot of hole cleaning just to get fishing.  And that condition exists from our shoreline as far as 1-1/2 miles out, which covers alot of our early fishing spots.  Beyond that it will be fine, but the ice out there is not thick enough to travel on yet.
I pulled our first rental out today after Cindy and i went out for Thanksgiving dinner. The last time i pulled houses on Thanksgiving was with my Dad in 1976 I believe.  Tomorrow my son and daughter and their families are coming over and we are going to have "our" Thanksgiving Day.  And on Saturday we will open for fishermen (portables only) and be starting to stake and establish roads.
Here we go again…….
Keep a Tight Line!
Eddy